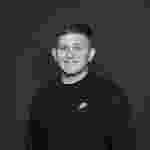 What do you do at IUCSF?
I am one of our presenters. So, I work with Matthew, Sam and Symone. We deliver workshops to young people all across the county, in schools, sixth forms, colleges and football clubs. I am in charge of liaising with the Premier League, making sure they're happy with our delivery and booking their workshops in. As well as that I make the best cuppas around the office and throw stress balls off Symone.
Describe why you're at IUCSF?
Me and my family were bereaved by suicide when my cousin took his own life. I saw the effect it had on everyone in my family and I want to make sure no one else goes through that like we did. Other than that, I get to go to some of the biggest football clubs in the world and work with some fantastic people.
If you could travel to anywhere in the world, where would you go?

VEGAS, easy answer.
What are some things that make you happy?
Football
My dog
Spending time with my family, friends and girlfriend
Listening to music
Holidays (somewhere hot)
Good food and lots of it
New trainers
What is your favourite biscuit, and why?
Caramel Chocolate Digestive.
Anything else you would like to share with the world?
There are 3 keys to a successful life:
If you love something, set it free – unless it's a tiger.
Success is 1% inspiration, 98% perspiration and 2% attention to detail.
Marry someone who looks sexy while disappointed.