Inside out is a national campaign, launched in 2014 to mark Worldwide Suicide Prevention Day which is annually held on the 10th September. The campaign raises awareness of the importance of talking by bringing what is on the inside, out.
Don't Be The One!
With your mates?
Having a chat with your friends? Make sure you pay attention to any changes.
Watch the video
Running late?
Put yourself in their shoes, make sure you take time and look out for others.
Watch the Video
On the bus?
Never underestimate the power of a conversation, make some time for others.
Watch the Video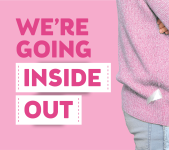 People rarely share how they feel, help us to get what's on the inside out for Worldwide Suicide Prevention Day.
Turn your clothes inside out and start a conversation on 10th September.
We believe that suicide literally turns lives 'inside out', so we want YOU to turn an item of clothing inside out and wear our #askmewhy sticker on 10th September, Worldwide Suicide Prevention Day, in order to start a conversation about how we feel.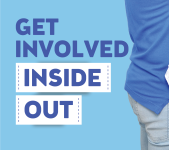 You can also help us to share the message further. Why not donate? Text IFUCARESHARE TO 70085 TO DONATE £5
Why not help us out on the day?
Get in touch
Get involved with Inside Out
Support us and spread this important message by joining in our Inside Out day. Just give us a few details so we know that you're on board! Once you've signed up we'll also send you free '#ASKMEWHY' stickers!