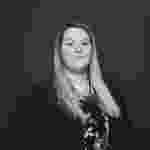 What do you do at IUCSF?
I am one of our support officers at IUCSF, I provide practical and emotional support to people who have been bereaved by suicide. I mainly cover County Durham though help out in other areas when needed.
Describe why you're at IUCSF?
After personal experience of being bereaved by suicide, I am really passionate in the work we do at IUCS. Losing a loved one to suicide can be the most difficult time of a person's life, having somebody there to talk to can make such a difference.
If you could travel to anywhere in the world, where would you go?
Alaska – A cold place because I'm always too hot!
What are some things that make you happy?
My mam and dad, they are my rocks!
2 dogs, Poppy & Lola
Hamsters, not everyone's a fan of them but I certainly am!
Hollyoaks & Emmerdale – Yes I LOVE the soaps, never miss an episode
What is your favourite biscuit, and why?
Gold biscuit – it's the caramel coating, so nice!