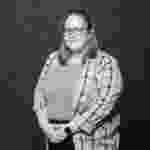 What do you do at IUCSF?

I am the Fundraising and Events officer for the charity. I am the link between the supporters and the supported, liaising with those who want to do fundraisers with us to give them any help they may need along the way. I assist in developing any events we are hosting as a charity and fundraising for any campaigns we are hosting. I also attend awareness stands for the charity spreading our name and speaking to individuals about the work we do, as well as dealing with the admin sides of the fundraising department on a day to day basis.

Describe why you're at IUCSF?

I am part of the minority at IUCSF who has not been bereaved by suicide however, I have had my own struggles with mental health over the years as well as being a support to friends who have been at risk of taking their own lives. This has fuelled me with a passion of promoting positive mental health and spreading awareness to ensure that everybody knows there is always a way and that there are organisations out there to turn to.

If you could travel anywhere in the world, where would you go?

Asia! 6 months travelling over there would be the dream!

What are some things that make you happy?

Dying my hair, I can't keep it the same colour for longer than a few month. Musical theatre, nothing beats a trip to the theatre to watch the same musical 25 times. Sponge Bob, he's an icon.

What's your favourite biscuit, and why?

Biscoff! Do I really need to explain that? It is the most elite biscuit in every form.

Anything else you would like to share with the world?

Summer Fruits Oasis is the elite drink choice and you cannot change my mind on it.