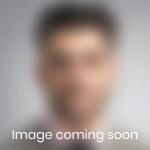 What do you do at IUCSF?
My role here ranges from organising diaries to sending reports back to our funders to being the first point of contact for those at risk of suicide or people bereaving and in need of support.
Describe why you're at IUCSF?
I've suffered from depression and anxiety throughout my life, and I know what it's like to want to take my own life. Now that I feel I'm in a better place, I want to give people the help that I wish I'd had when I needed it the most.
If you could travel to anywhere in the world, where would you go?
Possibly not everyone's cup of tea, but I want to visit ancient sites – from Colossus at Rhodes to Machu Picchu or the Great Wall of China – so somewhere like that would be cool.
What are some things that make you happy?
My border collie puppy, Hel. She helps me with my disability with everything from walking to pain management. I also love reading, writing, sketching, and I'm a massive gamer.
What is your favourite biscuit, and why?
Langues de chat – cat's tongues! They're a French biscuit. I don't have them very often, but my grandma brings them back from France for me sometimes.
Anything else you would like to share with the world?
I can identify any My Chemical Romance song within the first 3 seconds. It's a real talent. Honest.