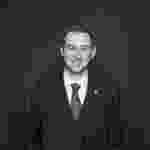 What do you do at IUCSF?
I joined If U Care Share Foundation in 2018 after working in politics for many years.
I head up the Funding and Events Department of the charity, helping those who would like to raise funds for the charity and putting on wonderful events throughout the year.
I also work with businesses across the region who link up with If U Care Share Foundation to promote the work that we do and raise much needed funds for the charity.
Describe why you're at IUCSF?
I have a real passion for the work of If U Care Share and I have seen the huge difference that we make. Having been affected myself I know how important it is to support those who have lost loved ones and help those who are at risk of taking their own life.
I know that every penny we raise really does change lives and saves lives.
If you could travel to anywhere in the world, where would you go?
Bermuda, my retirement plan is to be Governor of Bermuda and drink lots of Gin & Tonic
What are some things that make you happy?
I really enjoy amateur dramatics, history and I am an expert on the Eurovision Song Contest. Outside of work I am also a Sunderland City Councillor which I enjoy as it allows me to help people and really change things for the better.
What is your favourite biscuit, and why?
McVities Chocolate Digestives with the caramel inside.
Anything else you would like to share with the world?
I once accidentally asked the Polish Prime Minister to get me a coffee