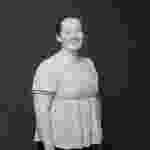 What do you do at IUCSF?
I am one of our Suicide Prevention Officers here at IUCS, I provide face to face support to individuals at risk of suicide. The area I cover stretches from Berwick, down to Darlington and across to the Cumbria border.
Describe why you're at IUCSF?
After a personal experience of being impacted by suicide, I am passionate about helping people when they feel at their lowest. It is amazing to see people when they are in a much more positive place. I truly believe there are little things we can do to help us cope just a tiny bit better, there is always hope!
If you could travel to anywhere in the world, where would you go?
Definitely a water villa in the Maldives!
What are some things that make you happy?
Good food, sleeping, working out, exploring the outdoors!
What is your favourite biscuit, and why?
Chocolate Bourbon, just because.